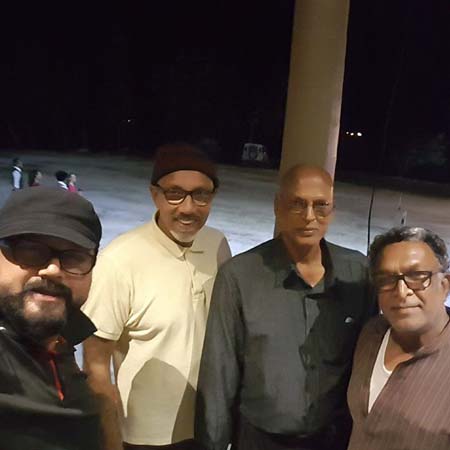 Bollywood Comes to Nila
In September, Nila Beach Resort played host to a Bollywood film production crew for 40 days (and 40 nights). The group was in Fiji shooting a Tamil film titled, 'Party' and spent a total of 70 days in and around the country.
Through word of mouth, the directors visited Nila and found that it was the perfect location, and within 4-5 days, the resort was filled with cast and crew.
25 individuals comprising of the directors, producers and cast stayed at the resort while the other 75-team members lodged in surrounding accommodations. They shot for 8 days at Nila itself, mostly at night, including the climactic scene!
The ensemble cast included leading Bollywood heroes and heroines such as Sathyaraj, commonly known as Kattappa, from the 2015 movie 'Baahubali'. He was also joined by his former co-stars Ramya Krishnan and Nassar. The cast also included Jai, Jayaram, Sampath, Shiva, Chandran, Sanchita Shetty and Nivetha Pethura.
More than 100 cars were used in the production with 300 locals cast as extras (even some of the resort guests participated as extras in the film!)
When the time came to leave, the cast and crew were overcome with emotion as everyone had become close to each other like a family. Tears were shed by cast, crew and our staff as well. The Bollywood team made sure to emphasise that they would stay in touch (and they have) and send the warmest vinaka vakalevu to all of Fiji.
The management and staff of Nila wish great success to the forthcoming film and the future endeavours of the Bollywood team. We hope to see you all again one day.